NIGHTTIME NECK SUPPORT DONE YOUR WAY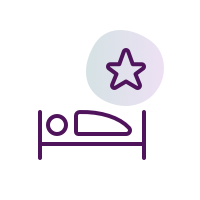 HYBRID FLEXIBILITY
A PILLOW THAT ADJUSTS TO YOU
One pillow size doesn't fit all. Simply unzip the pocket on the side of your Panda Hybrid Pillow and remove memory foam chunks until ideal poofiness is achieved.
MAKE YOUR PILLOW YOUR OWN
CUSTOMIZED COMFORT IS A FLIP AWAY
On one side, your pillow is thick and supportive. On the other side, it's soft and soothing. A simple flip unlocks your ideal comfort setting.
LET YOUR NECK DECIDE
TRY IT RISK-FREE FOR 30 NIGHTS
It might take a few flips and zips to calibrate your Panda Hybrid Pillow into its ideal form. Take a full 30 days to decide if your pillow is right for you—return shipping included.
shop pillows