CUDDLE UP TO POSTURE-CORRECTING COMFORT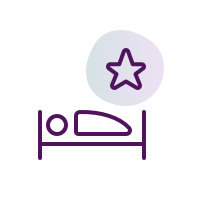 COMFORTING AND CORRECTING
SIDE SLEEPING HAS NEVER BEEN THIS COMFORTABLE
Sleeping with the Panda Body Pillow is like being wrapped up in a big memory foam hug. Body pillows make it more comfortable to sleep on your side, which experts consider to be the healthiest sleeping position.
SELECT YOUR MAIN SQUEEZE
ADD OR REMOVE FOAM FOR IDEAL COMFORT
An outer layer of memory foam wraps around a core of shredded memory foam chunks. By unzipping your Panda Memory Foam Pillow, you can remove foam to make your whole pillow flatter, or you can move the foam around to make certain areas fatter.
30-DAY RISK-FREE TRIAL
ORDER A CUDDLE BUDDY RISK-FREE
Find out what it feels like to fall asleep wrapped around the world's most comfortable memory foam body pillow. Try your Panda Memory Foam Body Pillow for 30 days risk-free. We'll even pay for return shipping if you don't like it.